This October segment of the FIFA international break seems longer than others. It seems like ages since Arsenal wore their red and white. But the break had a lot of talking points that may linger for months. I have my five to share.
1. Euro Shockers.
My joy knew no bound seeing Slovakia grab their first win over Spain. The former world champions are yet to get over their dismal showing in Brazil some years ago. The tiki-taka generation may be undergoing a phase but players with oldies like Casillas refusing to leave the pitch for the younger generation.
I was also delighted with Berti Vogts and his Icelandic gang as they grab maximum 6 points from 2 games winning Turkey away and Netherlands on the ice. The Eskimos had Turkey for dinner before denying Robben and his Dutch lords the luxury of skating on their ice.
Germany rounded up my Euro shocker with a 2-0 defeat to Poland, thanks to Arsenal's Szczesny. The German machine thought they had grabbed 3 points in Ireland but were denied by a late late goal. It is early days but being 6 points away from the leaders in your group doesn't look good for Holland. I was not interested in other Euro qualifiers but it was good news seeing the Arsenal players featuring for their teams viz England, Czech, Poland etc. I had an eye for Lord Bendtner too.
2. The Serbia-Albania Fracas
I may have gotten an F in history but UEFA should have known better in avoiding this kind of high volatility game. Serbia and Albania have been at political loggerhead for quite a while with a lot of bad blood. In as much football is aimed at being non-political, care must be taken to manage a given situation like that of the Serbs and Albanians. UEFA made sure Spain and Gilbratar were not in the same group, so was for Armenia and Azerbaijan, Russia and Georgia
The violence broke out after a drone, dangling a map of Albania enlarged to include areas of neighbouring Kosovo and Serbia, circled over the field towards the end of the first half, sparking the scenes which led to the match being called off.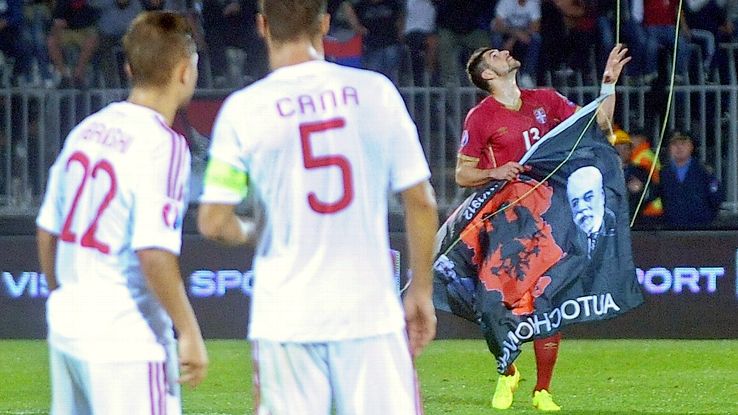 The drone hovered mockingly over the pitch for a few beats, before descending. Serbia's Stefan Mitrovic grabbed the flag, prompting a brief melee. Albanian forward Bekim Balaj emerged with it and was carrying it off the pitch when he was met by someone — probably a fan, pictures are inconclusive — who struck him with a plastic chair. This set off a brawl on the pitch which, in truth, was briefer and less violent than you would expect (though, worryingly, at least one steward appears to strike an Albanian player). Within 15 seconds of the Balaj chair shot — check the video — fighting appeared to have stopped on the pitch. To their credit, many of the players on both sides tried to remain calm and defuse the situation.
UEFA opened disciplinary cases against both countries over the match. Besides the brawls on the pitch, the Albanian anthem was loudly jeered by Serbian fans before the game in Belgrade and derogatory chants were heard throughout. Serbian supporters also threw flares and other objects at Albanian players, as well as attacking them on the field.
3. African Tussle.
The AFCON 2015 is getting closer and the African continent look set to get the other 15 teams to join hosts Morocco – that is if they finally host it – to battle for the Cup. With the rise and reign of Ebola, the Moroccan FA have suggested they postpone the tournament to a latter date. CAF would sit to make a final decision.
Prior to CAF's upcoming discussion, the continent watched as some giants killers had their victory while others struggled to get a win with very few enforcing their game and grabbing the early ticket to the Nations Cup. Cape Verde and Algeria booked their tickets within the break. Cote D'Ivoire, Nigeria, and Mali tasted defeat and victory. The tussle is still on and will resume finally in November. Who will miss out?
4. There is A country called Nigeria
Nigeria finally got their first qualifiers victory after defeating Sudan 3-1 in the Abuja stadium. Goals from Aaron Samuel and a brace from Ahmed Musa gave Stephen Keshi a reason to smile but his smile was short-lived as he sacked hours later. The former Super Eagles captain had been coaching the Eagles without contract and have had bad results in recent times must have been stunned to be shown the doors out of the glass house. With 2 games to go, the Super Eagles had their destiny in their hands and many expected the NFF to allow Keshi fall woefully or perform a magic to get Nigeria to AFCON 2015. But it seems, new NFF Chairman Amajuvu had other options and needed to flex his muscles.
So for the 5th time, Nigeria has appointed Shuaibu Amodu as the coach, although in the caretaking role to see the Eagles to AFCON 2015. If he doesn't, he surely will fall back on "I took a poor team". If he does, the NFF will forget the 3-1 victory. If he does and is sacked, the statiticians will say "for the umpteenth time, He qualified the team for a tourney without participating in the tourney"
For me Keshi should have been allowed to at least finish the remaining two games of the qualifiers. Who knows, he may have taken us their. For now, Amodu is the new bride. NFF, recycling coaches since 1860.
5. Arsenal – Walcott, Ozil and Injuries.
The Arsenal interest is always there even if there are no games to see the darling team showcase their skills on the favoured green turfs across England and Europe. Ozil's injury soured Arsenal's start to the break with news that he will be out for 12 weeks. Wenger claimed he heard a crack in the Chelsea defeat but played on with the minor discomfrot. The less-worse news is that, he will be out for just 6 weeks instead of the earlier 12 weeks.
Walcott returned to full training during the break after over 9 months sidelined with an injury. The speedster returned to training with Serge Gnabry and may feature for the U21 or against Hull at the Emirates. Ramsey is expected to return for the Champions League game against Anderlect. Koscienly is off for about two weeks. Arteta is back to reduce Flamini's flaminization. There is even an odd news of Diaby mentoring Sanogo – injury mentor?
These injuries will gave chances to some young players since the Prof refused to fortify his defence in the transfer window. Expect to see Isaac Hayden partner Metersacker in the heart of defence with Hector Bellerin hugging the right wing.
That was my internationl break. how was yours?
ICYMI: Suarez is back.
Enjoy