There is no better way to start your weekend than a juicy 4-0 victory over a team that knocked you out of the FA Cup – unless you are winning 7-0 like in those years of Middlesborough, Everton and Sparta Prague. Yes, the 4-0 can not undo the 2-1 loss in the FA Cup, it was a tonic to the heart that the Gunners have it in them to see off any team when they click.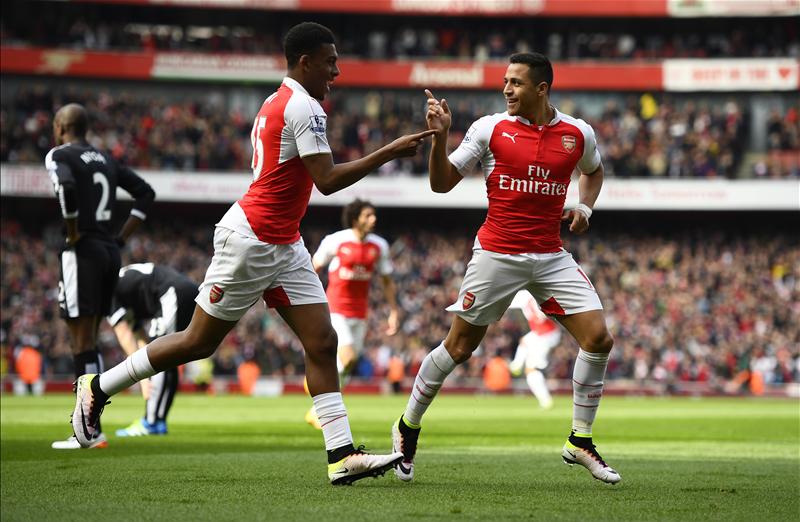 Alexis Sanchez opened scoring as early as the 4th minute to open the floodgates at the Emirates after Alex Iwobi had a cross into the Watford box. The Chilean turned provider in the 38th minute for Iwobi to score his 2nd Premier League in his second start. Hector Bellerin added a third in the 48th minute before Theo Walcott rounded up scoring in the 90th minute after good display from Joel Campbell.
It was a good day at work for the Gunners with Ospina having little or nothing to do at the back. Coquelin had 100% pass accuracy, his partner Elneny surpassed Santi Cazorla as the player with the most amount of completed passes in the Premier League this season with 122/127 completed passes. Bellerin must be in the team of the year.
From a Nigerian perspective, it was a frustrating affair for Odion Ighalo who was subbed off at half time. The Nigerian striker could not muster a goal as he did in the FA Cup. His Nigerian brother in the reds of Arsenal went home with the Man of the Match award for the second time. Iwobi has started two Premier League matches for the Gunners and was awarded the Man of the Match in these two games. A rapid rise for the teenager.
There were other 4-0 victories in the Premier League with Chelsea and Manchester City riding over Aston Villa and Bournemouth. Tottenham played out a 1-1 drew at Anfield but Leicester City pipped Southampton 1-0 to end the weekend on a not-too-good note to Arsenal. The Foxes are nicking the points and are set for their first Premier League title in history.
The El Classico came and Real Madrid halted Barcelona's 39 games unbeaten run in all competition. The game ended 2-1 with Ronaldo scoring the winner late on in the game. With a man extra, Messi-Suarez-Neymar could not lift Barcelona above the whites of Madrid. The Champions League resumes by Tuesday.
Enjoy.