The European football season came to an end on Saturday night in the San Siro. Real Madrid won their 11th Champions League title. The game had to be decided with penalties after Ramos' 15th minute goal (offside though) was cancelled out by Carrasco 11 minutes from the 90. Deciding a final with penalty kicks is painful to the loser and you could see the tears in the eyes of the Atletico players and fans when Ronaldo converted Real's 5th penalty to end the kicks at 5-3.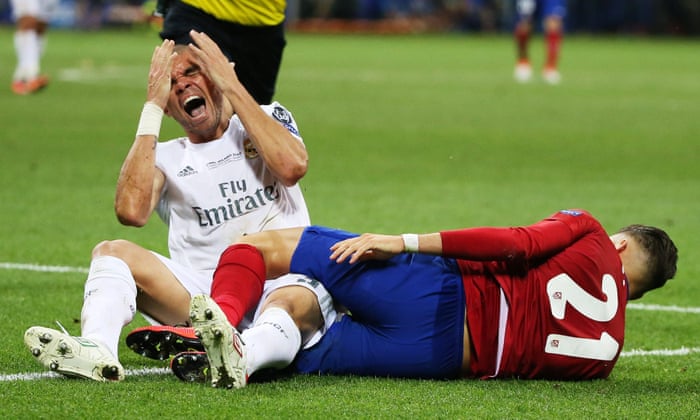 Sad night for Diego Simeone. Sad night for Torres. Tormenting night for Greizmann. His missed penalty will haunt him. Hopefully he gets over it before the Euros. Escrutiating night for Jaunfran – his kick struck the bar to give Ronaldo the opportunity to show us his nipples. Poor penalty night for Oblak. Twice they have faced Real Madrid in the UCL final, twice they have lost. Till next season. But can we allow Pepe's antics to continue? Sean Ingle blog on the Guardian throws more light.
With the European leagues done and dusted, the attention shifts to the Euros and there were a lot of friendly games over the weekend. The biggest of all was Germany's 3-1 home loss to Slovakia. Surprised? You can tag as a friendly but you never can tell. Will they be treated like Spain in the Brazil when they get to the Euros?
It was a debut for Hector Bellerin as a young Spanish side saw off Bosnia-Herzegovina 3-1 in preparation for the Euros. He could be join the team to the Euros depending on the Carvajal's injury report. Ride on Hector.
In the NPFL, Enyimba rode over Warri Wolves and flew to the 2nd spot of the table with a 2-1 victory in Umuahia. Christian Pyagbara scored the fastest goal of the season with a 55th second opener but Warri Wolves drew level in the 39th minute via Shedrack. Andrew Abalaogu scored the winner in the second half to secure 3 points. With 2 games in hand, Enyimba are second behind Rivers United by a point. Champions already?
The NNL kicked off yesterday and I was at the Teslim Balogun Stadium to watch COD United for the first time. They won Abia Comets 3-1 to the delight of coach Festus Emordi and the ~1000 fans that were in the stadium.
The female league is also on – Will Rivers Angels retain the tile. The Federation Cup R32 pairings are also out. Enyimba will face El-kanemi Warriors in one of the top clashes.
With little or no news from Ashburton Grove, you can try out the Euro Fantasy League. Those players are just too expensive.
Time for breakfast.