The sour taste of the 3-0 loss at Goodison Park still lingers like the African bitter herb that cures malaria. The mere realization of being drawn into the 4th spot trophy is excruciating on its own especially after bossing the top spot for so long.
Louis Hamilton's first win at the Bahrain GP didn't bring me the Saturday satisfaction; neither did Roger Federer's victory. The Nigerian Premier League offered me its share of football but I have pondered to no avail as to what next for our darling Arsenal.
The Champions League offered another twist to my week. As expected Manchester United were beaten by Bayern but the English biased press had this to say compared to Arsenal's exit by the current champions.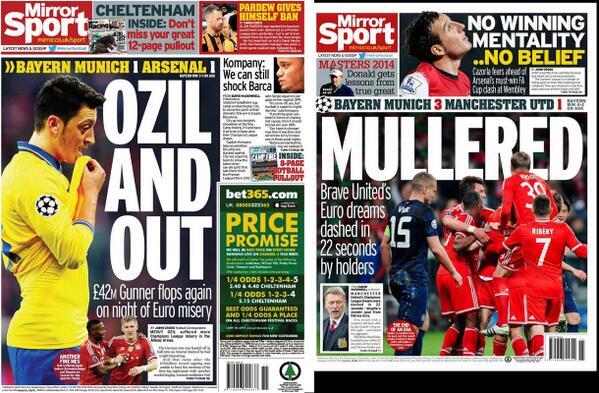 Cavani missed PSG's chances as Ba nicked Chelsea to the semis. The woodwork denied Borussia Dortmund from scoring more goals against Real Madrid as the Last year finalist were knocked out. David Villa haunted Barcelona as his 5th minute goal was enough to send Messi and Neymar out. Goonerdaily has his bold predictions. Who will be in the final?
On Saturday, the season at the Emirate may have a silver lining if they beat FA cup holders Wigan. The gunners are at an all-time low; low in confidence; doomed by series of poor result, triggering disbelieve and too many unanswerable questions.
A win over Wigan may propel the gunners to win the FA cup and fight on to remain in the top four of the League. If results for Everton's way, the gunners will be 5th by the time they return to play their premier League game. The gunners must respond to their critics. They must own up to their responsibilities instead of looking up to one.
The gunners must win, by hook or crook. After the FA cup win, other questions will sort themselves out: Wenger's future et al.
There is only one option on Saturday: Win.