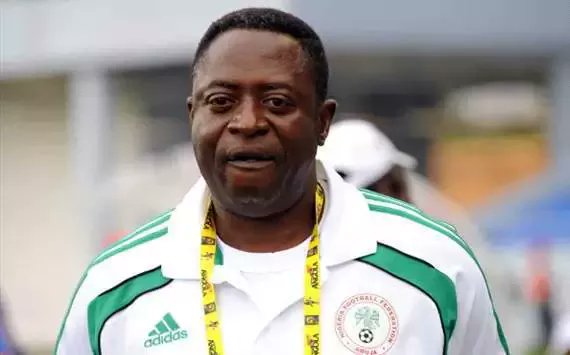 The footballing world was shocked with the news about the death of Stephen Keshi that hit the waves in the early hours of Wednesday morning. We are yet to be fully comforted. Lo and behold, another death has been recorded yet in again in Nigerian Football. NFF Technical Director, Amodu Shuaibu has died at the age of 58.
Amodu was a great coach and always got the job done. As a striker he played three years for Niger Tornadoes between 1978 and 1981 before he broke his leg and ended his playing career. He broke into limelight with BCC Lions of Gboko after they won the 1989 FA Cup and the CAF Cup Winners Cup the following.
Amodu had 4 different stints with the Super Eagles and is the only coach to have qualified Nigeria for the World Cup two times. He achieved that feat in 2001 and 2009, led the team to 3rd place finishes in 2002 and 2010 respectively but was sacked immediately after thus deprived of the opportunity to coach in the World Cup.
All hope were lost in 2002 with Tunisia looking to qualify from Nigeria's group in the FIFA World Cup qualifier. But he took charge and won the remaining three matches in which the team scored 9 goals and conceded none thus finishing ahead of Tunisia.
Many may have forgotten that he took the Super Eagles to the 1995 King Fahd Cup (now FIFA Confederation Cup), played 3 matches and lost none in 90 minutes – a 3-0 victory over Japan, a 0-0 draw with Argentina and a 1-1 3rd place match that was lost 5-4 on penalties.
Two Nigerian coaches within a week is too much for Nigerians to bear. Death, where is thy sting. Can we replace them? Legends.
I wanted to talk about the Euro2016 and Giroud's exploits but that will be for another.
Half-mast Saturday